Van stamouderanalyse tot geslaagde import van Castlemilk Moorits en Portlands
Door: Paul Spierings & Alberthe Papma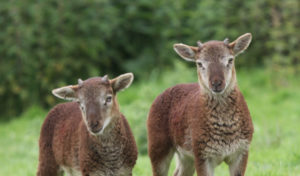 En daar sta je dan als (beginnend) fokker van een zeldzaam schapenras.  Hoe aan een geschikte dekram te komen voor je ooien? Net als bij vele andere zeldzame schapenrassen ligt ook voor de Castlemilk Moorits (CM) inteelt op de loer. Het kleine aantal CM-fokkers, de kleine kuddes en de lage beschikbaarheid van niet verwante dekrammen binnen Nederland maken de spoeling zeer dun. Daarnaast worden de importmogelijkheden bemoeilijkt door het nagenoeg ontbreken van het  ARR/ARR-genotype. Dat bleek al uit het feit dat de laatste dekram in 2006 was geïmporteerd. Zeker voor de hobbyfokker een ingewikkelde situatie. De uitdaging om tóch te proberen nieuwe bloedlijnen naar Nederland te halen bleek  uiteindelijk heel wat voeten in de aarde te hebben…
Binnen de groep van CM-fokkers werd sinds 2014 al gesproken over de inteeltproblematiek en importmogelijkheden. Ook had een aantal CM-fokkers in de zomer van 2015 contacten met de rasvereniging van de Castlemilks in Engeland, de Castlemilk Moorit Society, om te bezien welke mogelijkheden er waren. Tegelijkertijd werd er vanuit de VSS een inventarisatie gemaakt van fokkers die geïnteresseerd waren in het gezamenlijk importeren van fokdieren. En zo ging het balletje rollen.
Hobbels
In het najaar van 2015 deden we een eerste poging. Deze strandde helaas. Er waren aan beide zijde van de Noordzee nog te veel onduidelijkheden ten aanzien van de voorwaarden waaraan we zouden moeten voldoen, in relatie tot regelgeving, met name de scrapie-wetgeving. Maar gelukkig werd wel duidelijk dat er in Engeland een tweetal fokkers waren die met hun kudde meededen aan een zogeheten 'Scrapie Monitoring Scheme' (SMS). Dat hield in dat in Engeland exportcertificering mogelijk zou worden voor dieren die niet beschikken over de ARR/ARR genotypering maar wel afkomstig zijn uit een scrapievrij verklaard bedrijf. Lang bleef onduidelijk of dit voldoende waarborg zou zijn om daadwerkelijke import aan Nederlandse zijde mogelijk te maken. De NVWA was in eerste instantie niet bekend met dit Engelse programma. Bovendien kregen we maar geen helder antwoord op de vraag welk van de twee landen nu eigenlijk de definitieve stem had en of er toch geen aanvullende voorwaarden vanuit Nederland gesteld zouden worden.  Kortom: eigenlijk waren we gewoon te vroeg.
 Bezoek Engeland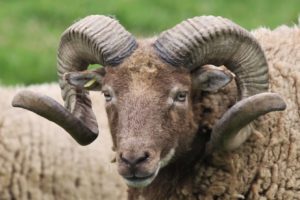 Ondertussen besloten we zelf in elk geval een bezoek te brengen aan Sue Roberts, een van de betreffende CM fokkers uit het Engelse SMS programma en secretaris van de Britse Castlemilk Moorit Society. Om nader kennis te maken, samen een plan de campagne op te stellen en natuurlijk haar dieren, CM en Portlands, in levende lijve te zien. Een zeer prettig en naar later bleek ook vruchtbaar bezoek. We kwamen veel te weten over het Scrapie Monitoring Scheme en de aanstaande certificering voor haar bedrijf per eind 2016. Dit alles hielp ons later enorm in de afstemming met de NVWA. Bovendien bleek Sue te beschikken over een uitgebreide stamouderanalyse van haar kudde. Als wij zelf ook in staat zouden zijn zo'n analyse te maken van de in Nederland aanwezige dieren zouden we gezamenlijk geschikte Engelse dieren met Nederlandse dieren kunnen matchen met als doel een zo groot mogelijke genetische diversiteit te creëren. Inmiddels bleek dat ook Belgische CM fokkers behoefte hadden aan nieuw bloed, bezig waren met een dergelijke analyse én met importplannen. Samenwerking lag dus voor de hand.
Stamouderanalyse: een mooi gebruiksdoel van het VSS-stamboek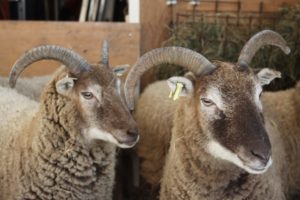 Belangrijk was dus een antwoord te vinden op de vraag hoe het gesteld was met de genendiversiteit van de in Nederland voorkomende CM-schapen. Maar hoe?
De Castlemilk Moorit Society in Groot Brittannië heeft in het verleden onderzoek gedaan naar de genendiversiteit van CM-schapen. Uit dit onderzoek kwam naar voren dat alle CM-schapen te relateren zijn aan een klein aantal zogenaamde stamouder schapen. Deze stamouders waren de eerste schapen die in het UK-stamboek werden ingeschreven. Dit waren de schapen en hun lammeren die begin jaren '70, na het overlijden van de landheer van het Castlemilk Estate, werden gered van het slachthuis.  Deze voorouders vormen de stamouderlijnen van álle huidige CM-schapen en zijn gerangschikt van minst voorkomend (ofwel meest zeldzaam), lijn 1 tot meest voorkomend, lijn 14.
Voor de groep Nederlandse CM-fokkers die geïnteresseerd waren in het importeren van fokdieren werden de afstammingsgegevens van hun schapen uit het VSS-stamboek, uitgaande van de ooit in Nederland geïmporteerde dieren, gerelateerd aan de Engelse onderzoeksgegevens. Hierdoor werd het mogelijk om per Nederlands CM-schaap de genetische bijdrage van de stamouderlijnen in percentages aan te gegeven. Ook werd inzichtelijk gemaakt welke vroegere importdieren vanuit de UK genetisch het meest hebben bijgedragen aan de huidige Nederlandse populatie. Gelukkig bleken alle stamouderlijnen terug te komen in de in Nederland levende CM-schapen. Maar tegelijkertijd was meer dan de helft van de genetische bijdrage, 52%, afkomstig van slechts 3 importrammen die ook nog eens uit dezelfde kudde kwamen!  Hoog tijd voor nieuwe bloedlijnen dus.
Samenwerking  fokkers en voorbereidingen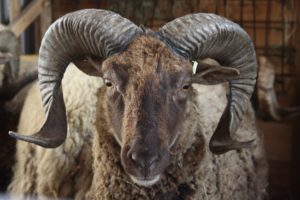 Met al deze gegevens in de hand kwamen de in import geïnteresseerde CM-fokkers bij elkaar. De resultaten van de stamouderanalyse, importmogelijkheden en inschatting van kosten werden besproken en ieders wensen werden geïnventariseerd. Tussendoor kwam VSS keurmeester Henk Slaghuis ook nog een paar ramlammeren en drie ooien inspecteren. Een geslaagde dag, de samenwerking werd beklonken. Inmiddels toonden ook twee Portland fokkers zich geïnteresseerd om aan te sluiten. Zij zitten immers met dezelfde problematiek. Ook de Belgen waren geïnteresseerd, om zo gezamenlijk de kosten van het geheel te kunnen delen. Het ging immers maar om kleine aantallen en met nu 22 dieren werd het inplannen en bekostigen van een transport een stuk makkelijker en aantrekkelijker.
De voorbereidingen werden nu écht getroffen: de ooien werden gedekt door passende niet gerelateerde dekrammen, de SMS-certificering kwam rond, alle importdieren werden ontwormd, bloedtesten (Zwoegerziekte, Brucella Ovis, Bultenziekte) werden afgenomen, het export-certificaat werd aangevraagd, ondertekende afstammingsbewijzen klaar gemaakt en het transport definitief ingepland. Twee weken later kwamen de uitslagen binnen, alles bleek in orde! Alle gegevens gingen naar de dierenarts voor de exportkeuring  van de dieren.  En 1 februari 2017 zou het gaan gebeuren.
De import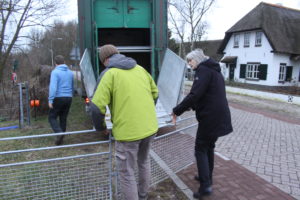 Op 31 januari kwam het bericht, de gezondheidsverklaring was afgegeven en eind van de middag werden alle dieren al ingeladen. Vervolgens ging de route via Dover, met het veer naar Calais om vervolgens midden in de nacht te stranden in de smalle straatjes van een klein Belgisch dorpje. De veewagen bleek wat groter dan gedacht… Besloten werd de Belgische groep dieren pas uit te laden als het weer licht zou worden. 's-Middag werd de reis naar Nederland hervat en aan het begin van de avond arriveerde een heus 'internationaal transport'. Ook hier verliep de feestelijke intocht niet geheel zonder slag of stoot. De ooien roken de vrijheid en gingen er dus met grote sprongen  vandoor.  Ze staan niet voor niets bekend als een 'zeer alert ras'.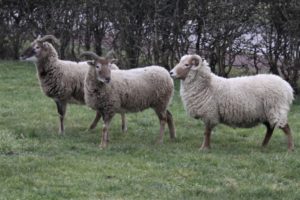 Wat zijn die schapen snel! Met hulp van ongeveer alle buren en de chauffeur werden de dames uiteindelijk toch veilig de schuur in geloodst. Het waren ongetwijfeld filmische taferelen. Voor de rammen werd dus maar het trailertje van de overbuurman ingezet. Die kon namelijk tot vlak bij de schuurdeur worden gereden. Toen was het een fluitje van een cent. Maar laten we zeggen dat we 'One Man and His Dog' goed hadden kunnen gebruiken. Binnenkort gaan alle dieren naar hun Nederlandse eigenaren.
Het was een hele onderneming waarbij we veel hulp hebben gehad zowel aan Nederlandse als aan Engelse zijde. Door die samenwerking werd het een succes dat misschien in de toekomst nog eens herhaald kan worden. We kennen nu in elk geval het klappen van de zweep…..
Verschenen in de Ruif 2017-2, nieuwsbrief VSS, zomer 2017